Octave electronics DAE-1
(Digital Audio Enhancer)
the NEW
DAE-2



Review
New Features of DAE-2 :-
Octave PPT Film & Foil Output Coupling Capacitors
3 + 1(spare) Inputs with Input Selector - connect your CD, DVD, Digital Satellite Receiver to the DAE-2 and hear the difference !!
No compromise 6 step gain control from -1dB to +6dB using Philips MRS25 series 1% Metal Film Resistors - optimize output gain to match your equipments without signal loss
2mm All Aluminium Chassis with Epoxy Coat Finish
IEC Input Power Socket - power up the DAE-2 with your favorite power cords
Tube Damping Rings are supplied as standard accessories
---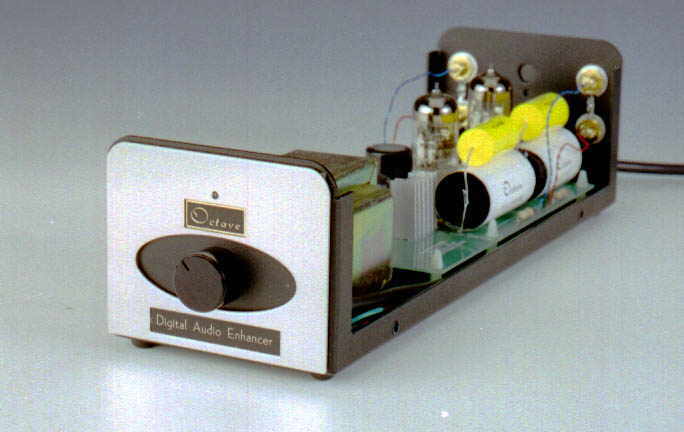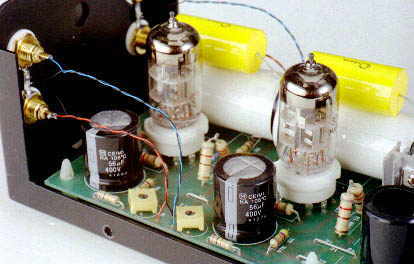 DAE -1 Digital Audio Enhancer
"EXTRACTING THE MAXIMUM PERFORMANCE FROM YOUR AUDIO SOURCES!"
The Digital Audio Enhancer DAE-1 has been designed to extract the maximum performance possible from modern digital audio sources. The DAE-1 is connected between your audio source and Preamp or Integrated Hi-Fi or AV Amplifier.
The DAE-1 works in two ways:
i) It acts as an impedance conversion device. The output stage of most most digital audio source are unable to source much current before distorting. This is often a serious problem due to high capacitance of many interconnecting cables and the low impedance of most amplifiers.
The DAE-1 has a very high input impedance and a true low output impdance so that the output stage of your digital audio source can remain in Class A mode while driving the amplifier satisfactorily.
ii) Removes high frequency hash from your signal sources. This is accomplished naturally by the roll-off action of the tubes/valves' own input capacitance rather than by brute force filtering. In particular, the use of ferrite filter are discouraged, as in most cases they can be saturated by residual DC leading to poor performance. The DAE-1 only acts on noise signal present in the RF spectrum, i.e. much above 100KHz, so the purity of the musical signal is preserved. The removal of this RF hash allows the amplifier of your choice to work much better; the music breathes freely, rather than sounding dull or lifeless.
We have found that offboard power supplies degrade the performance by allowing the power supply line to act as a giant antenna, radiating out RF energy leaked through the line-out sockets of the CD player. The DAE-1 has been designed to ensure that there is no leak-through of RF energy from the signal lines. This helps eliminate the muddying harshness of some digital sources.
---

Specific applications:

The DAE-1 has been tested extensively and has been found to be particularly beneficial when used with digital sources that employ signal compression, removing the metallic "glaze' from the musical presentation.
Enhance the sound of your CD, LD, DVD and other digital audio signal sources, even radio,
TV and satellite transmissions with the DAE-1.
While specific CD players - primarily the Marantz CD-63 series - have been specifically used over the course of design and development of the DAE-1 (thus making the DAE-1 especially suited for owners of Marantz CD-63 series player), the DAE-1 will works its benefits with almost any source.
---
F E A T U R E S :
High Quality Audio Grade Components
Specially Selected And Matched Tubes
Independent Regulated Soft Start HT Power Supply, For Longer Tubes Life
Completely Integral Power Supply
Heavy Gauge 1.5mm Steel Chassis
Precision Laser Cut Steel Chassis
Epoxy Coated Chassis For Greater Durability
Cooling Vents On Top & Side Of Chassis, For Greater Efficiency And Cooler Operation
Gold Plated RCA Sockets
Low RFI Emission Fast Recovery Soft Switching Diodes
Blue LED To Indicate Power On
All Solder Joints Are Fully Hand Soldered With 2% Silver Solder
---
| | |
| --- | --- |
| Specifications: | |
| Tubes | ECC88/6922 X 2 pcs. |
| Frequency Respone | 10Hz. to 30KHz. |
| Distortion | Below 0.01% (pure second harmonic) |
| Maximum output amplitude at 0.1% distortion | 38 Volts pk - pk |
| Gain | Adjustable |
| Number of Input | 1 Pair RCA Sockets |
| Numper of Output | 1 Pair RCA Sockets |
| Power requirement | 240VAC Or 110VAC |
| Chassis Dimensions | H8.2 X W10.5 X D30.3 cm |
| Maximum Dimension | H8.7 X W10.5 X D33.3 cm |
| Net Weight | 3.15 Kgs. |
| Shipping Weight | 3.40 Kgs. |