Review
Enhancer l'enchanteur
Hot off the presses, a Malaysian-made audio enhancer. STEVEN PATRICK catches up with the newest kid on the block and stops it to ask some pertinent questions (of course, being a cur, ANDREW WONG gives it a cross-examination) ...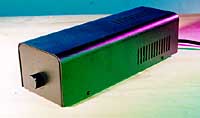 VALVE processing has a following so dedicated that it has reached somewhat Confucian proportions. People swear by it as they do by white meat. Almost a statement, a way of life, if you like. It is the sound processing technique of the yearning romantic, the man with half a dozen tuxedos in his closet, and perhaps the pastime of the man with a knowledge of fine wines.
It's perfectly fine to stand up at a posh dinner and say in a thick English accent, "I only listen to valve equipment," in the same tone that you would profess your liking for Caspian Sea caviar.
The glow of the valve, the warmth and texture of the sound, all this contributes to this pretentious listening experience.
Up till now, these experiences have been available to amplifier/CD player/DAC owners. This year, however, a nifty new invention has been introduced and priced towards the everyman. It is Octave Electronics' valve buffer, going under the more marketable name of Digital Audio Enhancer 1 (or DAE-1, for short), unofficially the arch-rival of Musical Fidelity's X-10 D, but swooping in at a mere RM750 compared to the latter's RM1,200 price tag.
Its importance in the hi-fi world is not to be underestimated. The DAE-1's existence-brief is to provide an upgrade option to those whose CD players have no digital (S/PDIF) output and, more importantly, to those looking to add some needed warmth to their system.
Features
The DAE-1 uses the same highly acclaimed ECC88 tubes (from Russia) as the Musical Fidelity X-10 D. These tubes (and a bunch of capacitors, etc), that boast a frequency response from 10Hz to 30KHz, are tucked neatly into a compact black rectangular box shaped no bigger than a loaf of bread. Yes, that means you can't watch the valves glow in the dark, unless you remove the cover.
The casing is fuss-free, being of a clear black finish, and there's even less fuss with the number of hookup options — the DAE-1 has a pair of stereo inputs and outputs behind it. They are of course both analogue by nature: the DAE-1 doesn't have a digital input, which means that you cannot bypass a CD player's internal DAC (unless you make an internal adjustment to the CD player). Anyway, these inputs/outputs mean you have to spring for another two sets of cables.
Technically, what this wonderful little black box does is act as an impedance conversion device to output the ideal load for amplification; the DAE-1 has a very high input impedance and a very low output impedance. In addition to that, the DAE-1 also removes high frequency hash from signal sources. All this, quite simply, means that the metallic glaze from digital sources will be removed. In theory, at least.
Now, while the DAE-1 is being touted as a CD player's best new partner, this doesn't mean that it can only be used for that. Possible digital sources also include ASTRO, and let's not forget LD players and (shudder) those karaoke sessions; do note that the single pair of inputs means a bit of unplugging and plugging in when switching digital sources, if you so choose. And heaven help you if you think this is the best thing since sliced bread and decide to wire up everything you own with a host of DAE-1s — I'll let you work out the cost of that ....
Also, newcomers to valve-based gear, please note that the tubes need to be changed every three to five thousand hours of use (it will cost you RM45 per piece in this case). You can even go further, replacing the stock ECC88s with better quality tubes like the Sovtek 6922 or the JAN/Philips 6922, which retail at about RM60.
Performance
Equipment used for this review were Philips CD950 and Pioneer PD-206 CD players, an AMC CVT3030A amplifier and Monitor Audio MA700 bookshelf speakers, with an AMC DAC8 DAC as comparative reference. Oh, and not forgetting the ubiquitous Marantz CD-63SE CD player, which came in for a short while in the program.
Referenced against the DAC8, the difference was immediate; the DAE-1 is not a subtle tweak — it makes a substantial difference to most sources, even one as good as the Philips CD950/AMC DAC8 combination I'm using.
Indeed, the DAE-1 transforms everything it is allowed to touch, turning a cheap CD player like the RM500-odd Pioneer PD-206 from a face in the crowd to a standout, and turns a quality player like the Philips CD950 — and yes, the Marantz CD-63SE — into a major contender in the hi-fi sweepstakes.
This it does by creating a tighter, better defined soundstage, for one; the degree in which the improvements come are dictated by the inherent quality of the players to begin with, of course. That this ability to conjure what is almost a holographic sound is achieved without sacrificing the recording's inherent musicality is impressive, but even more so is the greater sense of motion and liveliness in the music.
The bustling soundstage is just one aspect of it. The DAE-1 pulls you into the recording, head-first. It textures recordings generously, giving that dry, generally wirey CD sound more body and added weight. Though the Philips CD950 is inherently a big and involving digital source, the DAE-1 helped articulate the music in a more dramatic manner. Bass was fuller and vocals more intimate, while string sections swept across the room with bravado, and Miles Davis' trumpet-playing resonated warmly.
On pop recordings by Prince, the DAE-1 adds a little midbass warmth, giving the rhythm section a fuller sound; here, the bass drum was given a rather substantial shot, as opposed to the lean sound without the DAE-1 in the picture, while the snare drum sounded meatier with it in the chain.
What I found interesting was how the DAE-1 managed to convey a smooth and cohesive frequency range across the board, working its magic with a wide range of music, be it pop, jazz or classical.
And here's more interesting news. Those who run Astro will be pleased to hear that it more than helps satellite transmissions, helping those digital broadcasts achieve a fuller and easily more dynamic sound — the first thing you'll notice is how the original sounds rather tinny. Dialogue is clear — with better projection — and easy to follow, and sound effects are more pronounced. Guess what? The DAE-1 also has a substantial effect to the sound of videos, in this case a positive one.
Conclusion
The Octave Electronics DAE-1 digital audio enhancer is a lively, engaging and well thought out piece of equipment. In my opinion, this valve-based unit more than fulfils its design brief; its validity holding especially true for those running cheaper or older CD players, and also those without digital outputs — providing a more mellifluous, lusher sound, and doing so without breaking your bank account.
But there is also life beyond the 44KHz realm. Astro comes to mind, as do other AV-based leanings. Still, it is in CD that the DAE-1 provides the biggest experience, albeit one encapsulated in a box.
I mentioned at the beginning that the DAE-1's importance in the audio world was not to be underestimated. It isn't. This is a product of great significance; it signifies the growing participation of world-class hi-fi by smaller Asian companies. In this regard, the DAE-1 warrants the same kudos as the Singapore-based Robertson Audio amplifiers of a decade ago have garnered, to say the very least ....
But, don't just take my word for it. Go, listen and be prepared to be mesmerised.
Andrew Wong, ever the ruffian, puts in his two sen worth about the DAE-1:
I WAS never a firm believer of tweaks. I've had my fair share of hocus-pocus stuff that's come in all shapes and sizes with names like "AV Donuts" and "Tender Feet" to match. But as far as audio enhancers are concerned, only products from George Tice, namely the Titan power line enhancer/conditioner, has left an indelible impression on me.
So what about the DAE-1 (once known as the CDLE1) from Octave Electronics, which Alfean Hardy passed on to me in a cheap pink-coloured pasar malam plastic bag? I had my doubts; I practically sniggered at the DAE-1 when no one was looking, but an accidental peep through the ventilation slots of the casing changed my tone of anticipation — I saw tubes!
Now, those of you who know my passion for all things tube will think I fell in love with the DAE-1 because it's tube driven, and you know what they say — I'm a sucker for tubes and the warmth associated with them around. How right you are.
Okay, so I had expectations. But when I plugged the unit into my system, boy oh boy, was I in for a big surprise! The DAE-1 showed nothing that indicated the presence of tubes — no rosy, warm appeal; no soft-edged highs. And certainly, none of the slow, slumbering approach; in short, none of the negatives.
Ah, but if you think that everything is solid-state like, or callously detached, I'll ask you to think again. The overall perspective of music was cleaner and crispier, yes, but the overall sonic perspective was now one that simply begged to be listened to. Clarity and contrast between images was simply impressive, although I must warn you that the DAE-1 has quite a substantial gain effect on the volume and as such, comparative tests with the standard analogue outputs will cause a biased opinion — unless you bother to set the volume contrasts.
Here's how. Simply arm yourself with an SPL meter and a CD with test tones to get the comparative playing levels on par. Once you've done that, what do you hear? Voila! You'll still agree with me that the DAE-1 does great magic.
Heck, not since the Cambridge Audio DACMagic DAC have I been this impressed with a CD-enhancing product (I've been told you can use it with a variety of other sources, but why bother when you can do it so well here, with CD?). The pair of Russian-made ECC88 double-triodes certainly make a difference, in the way an exceptional valve amplifier weaves magic into the sound of your system.
The Marantz CD67 player which partnered it sounded drier and veiled without the DAE-1 in the chain. With the DAE-1, individual images were better defined and the soundstage became deeper, with a more 3D-like feel. Treble had more air and life, bass was tauter but liquid enough to retain its essential character. All this makes the DAE-1 a pretty stunning product.
Credit should go to Michael Loke, Octave's chief, for bringing such a great product to the attention of the local audio community and if I'm not wrong, the DAE-1 is custom-designed by Octave, as I saw the company name etched on the PCB.
As for the build, well, other attention to detail like the use of quality parts and a solid casing more than suggests a well thought out product. Oh, and not forgetting the sexy blue LED power indicator on the front panel, which simply exudes high-end appeal at a glimpse.
In conclusion, don't worry too much about the Hang Seng index or how the Dow Jones bounces. Get your cash out and spend it right away on the DAE-1. Without your wife's knowledge, that is.
Model: Octave Electronics DAE-1 Digital Audio Enhancer
Price: RM750
Frequency response: 10Hz to 30KHz
Tubes: Two ECC88
Distortion: Below 0.01% (pure second harmonic)
Review sample courtesy of OCTAVE ELECTRONICS SDN BHD (03-793-7939), 81 Jalan 1/12, 46200 Petaling Jaya, Selangor.
For: Soundstaging is spot-on and focused. It adds body and command to the sound, and pushes it into another realm altogether.
Against: A single pair of inputs.
| AudioFile | AVMail | Archive |
AudioFile © 1998, Star Publications (Malaysia) Berhad (No. 10894-D).
All rights reserved.