Two score and ever more
The posse rides again. N. RAMA LOHAN, STEVEN PATRICK and CHERYL GOH take to the hills to track down a fearsome duo in this week's episode of 'I Was A Cowboy ... er, Cowgirl, er, Cowperson'

FOLLOWING on the trail blazed by the hot-rodding Octave Electronics DAE-1 tube-based line level enhancer (AudioFile #45, Nov 97), we decide to take to tarmac burning once again, but this time with a lil' twist.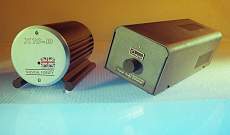 Many will no doubt be familiar with the Musical Fidelity X10-D, a unit of similar brief and nature to the DAE-1. Though we never formally reviewed the highly rated English design, it really isn't a stranger in its workings to us all; in addition, Kuldeep Singh did have a tech-based run-in with it in his Techno File column (AudioFile #38, Apr '97).
And so we come to the beef. Curiosity toggled the following piece. The burning question was: how do both units stack up against each other? We asked three of our reviewers to take a ride on both the rockets ....
First up to bat is N. RAMA LOHAN ....
There was an immediate difference once the X10-D was up and running in my system (Sony CDP-761E CD player, Pioneer A-300R amp, Spectrum Audio cd105 speakers, with Kimber Kable, XLO and van den Hul cabling). The precision of the staging, across-the-board transparency and the comforting warmth of the tube tone was what got me first.
After a while though, things became a little less impressive. Upper midrange and vocals were well projected, but tended to be a little rigid; there was little pliability overall. Percussion and drum attacks breathed with life, with convincing sustain and decay details on cymbals, but perhaps a bit more commanding attention here wouldn't have gone amiss. Subtle breath nuances on brass and woodwind instruments were convincing, rarely ever coming across as harsh or insincere. As to the all-important question of bass response -- sweet and tender, it was, but a trifle "under-nourished." In effect, good retainance in tonal quality, but somewhat void of life.
In a strange kind of way, although the X10 provided hours of easy-listening pleasure and plenty of realism, it tended to be too tame, docile, if you'll have it ... accurate, but maybe a tad subdued.
And then, there's the loaf-of-bread-looking DAE-1. Sonically, the increased volume level is what lunges at you first, though further in, the DAE-1 revealed a bundle of pleasant surprises. Its tonal quality is simply mouthwatering, encapsulating you in a warmth that belies its looks, and it's the sense of intimacy that gets you hooked to it very early on.
The midrange was a lot more up close and personal via the DAE-1. Be it acoustic or electric bass, or a even a kick drum, this tone was deep and throaty, sometimes a little sloppy, but certainly natural-sounding. Even the woody undertones, from say, the double bass, breathed in with a whole lot more life. As such, immediacy is enhanced, as percussion thuds and thumps pumped with more vigour and vibrance. Cymbals tended to have a crisper leaning too. Compared to the X10, the DAE-1 has a much deeper and wider soundstage, but the lines of the picture, in its entirety, isn't as well defined.
All said, the X10 has an intrinsic quality of being able to deliver a well-defined, if somewhat clinical, musical experience; the realism from the DAE-1 is less a "perfect" creature, but is a lot more vivid and musical. Both excel in different departments -- the X10-D is exactly what the DAE-1 isn't. It's purely a case of precision over authenticity. Oh, and also a price disparity that requires consideration too ....
Next, STEVEN PATRICK takes his turn on the soap-box
Used in a Philips CD950 CD player/Audiolab 8000A integrated amp/Monitor Audio MA700 speakers-based system, the DAE-1 gives a dramatic lift to music, most notably in the midrange. Its emphasis, like most tube-based gear, seems to be on producing fuller bodied-vocals; voice is thicker and more upfront in the soundstage, projecting well into the listening room. Bass and treble also gets a nice shot in the arm, and excessive treble becomes more user-friendly, resulting in a more balanced and involving sound. The synth-bass on Pet Shop Boys records take on a new life while acoustic basses on jazz recordings play with added realism. String sections on pop and classical recordings get pushed forward, sounding lusher and more compelling.
Overall, the DAE-1 gives a livelier feel to a wider choice of music; from your grandad's Ella Fitzgerald recordings to Madonna's new drum 'n' bass fascination, the DAE-1 will satisfy and impress the average man on the street with its hot-blooded, full-bodied sound.
The MF X10-D is more transparent and easier on the ear, especially on the treble end, which is smoother. It doesn't seem to provide as much "fizz" as the DAE-1, but it might satisfy those who favour a more honest presentation -- vocals aren't as pronounced as they are through the DAE-1; they seem to linger in the background of the stereo-image, rather than jump out, which isn't necessarily a bad thing to some, especially on classical music.
But do note that the X10-D's performance is extremely source dependent and may not sound as favourable with less capable, budget-class CD players; this is less so the case with the DAE-1, which markedly improves the performance factor of budget players. In simplistic terms, the former verges on ear-candy and the latter runs on the honest-to-goodness vote. If you do opt for the more honest sounding X10-D though, make sure your CD player is cooking hot ....
Finally, we'd like to introduce our latest sound slave, CHERYL GOH, who gets thrown into the deep end here ....
BEING an MF X10-D owner myself, it seemed an easy enough task to compare the unit with something that is said to rival it in sound and value, Octave Electronics' DAE-1 valve buffer stage.
The initial impact of the DAE-1's workings hit me pretty much like a tidal wave; the overall impression was that the volume had been cranked up a notch -- everything coming through the DAE-1 possessed a lot more energy, with vocals displaying remarkable verve and clarity.
In my system, which consists of a Marantz CD67 CD player (a rather upfront sounding machine), two Micromega Minium integrated amps (used in bi-amp mode) driving Mission 751 speakers, the DAE-1 has a fiery punch, with a particularly articulate midrange. The midband sounds both open and expressive; every pluck of a string, every draw of breath and every shimmer of percussion is crystal clear though the DAE-1.
Further listening, however, revealed a certain degree of harshness in the treble. Alanis Morissette's notoriously tricky Jagged Little Pill disc showed this up, and the DAE-1 does little to temper the sometimes hard recording: in fact, at times its treble enthusiasm sharpens up the steely edge by too much, and a shade more warmth in the bass wouldn't go amiss.
The DAE-1 is too unforgiving with raw and aggressive recordings, as it can sound utterly lean at times. Play something a little more bass heavy like M People's Itchycoo Park and the bass seems to emanate from the room next door rather than around you.
I thought the X10-D to possess a richer, more full-bodied sound than the DAE-1; treble, although not as well projected, is sweeter and smoother and the bass goes deeper, with better extension. Paul Simon's Graceland is a good example, and on the X10-D, the sound is truly deep in terms of both bass and three dimensional depth.
Both designs have their advantages, and at the end of the day, the better of the two is solely dependent on the type of presentation you enjoy. If you like your music smooth and sweet, then the X10-D is the one to go for. The punchy DAE-1 is strictly for thrill-seeking adrenaline junkies. Again, the point is that the effect and workings of both units are system dependent ....
The Octave Electronics DAE-1 (RM850) is available from OCTAVE ELECTRONICS (03-793-7939, e-mail: octave@pc.jaring.my) 81 Jln 1/12, 46000 Petaling Jaya; the Musical Fidelity X10-D (RM1,199) is available from PROFILE SPEC SDN BHD (03-636-1390), 7 Jalan Tago, Taman Perindustrian Tago, Persiaran Industri, Off Jalan Persiaran Utama, Sri Damansara, 50400 Kuala Lumpur.
| AudioFile | AVMail | Archive |
AudioFile © 1998, Star Publications (Malaysia) Berhad (No. 10894-D).